Beneficiaries
Since its formation in early 2005, The Nihal Armstrong Trust has helped many children across the UK. You can see some examples of how we have helped below.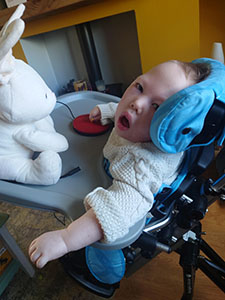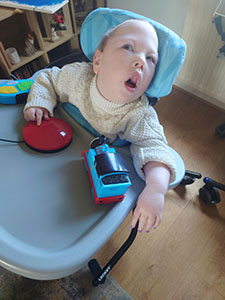 Charlotte Shiels
"Charlotte is loving pressing the buttons on her new sensory toys! It's lovely to see her being able to play."
Manuela Constantin
In 2020, the Trust funded piano lessons for Manuela who was born in 2015. Her mother says, "She has started piano lessons recently and this is making a huge difference to her life. She is very enthusiastic about it, has started using her left hand more, has started using her right hand more efficiently. The music teacher has said Manuela has already made very good progress with her fine motor skills, attention span and piano skills. I have also noticed that after her piano lesson she is in a better mood and much more confident of what she can do."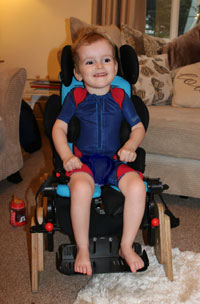 Oscar Day
Oscar Day, born in 2013, in his lycra suit bought with the help of the Trust. His father says, "As can be seen, it really supports Oscar's trunk, meaning he has a lot more head and body control and that Oscar is now getting increasing movement in his arms and legs. This increased independence has meant that Oscar is more able to use his walker and stander and enjoys interacting with his peers a lot more. It also means Oscar can play with his switch-adapted toys or eye-gaze computer for a lot longer duration."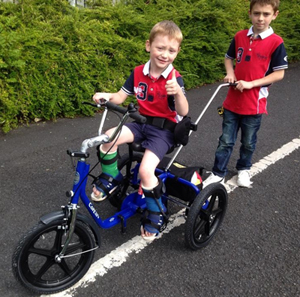 Caleb Kerr
Caleb is the beneficiary of the Quest88 donation of a trike to celebrate their 25th anniversary.
His mum says "Caleb really loves his trike, he's on it most days and able to race his brothers! Thank you so much for giving him this chance to gain more independence. It's greatly appreciated!"
Jack Reid
Here's the lovely Jack Reid, who was born in 2011, playing with his new iPad. His mum says, "He loves it!" and sent us this video to prove it.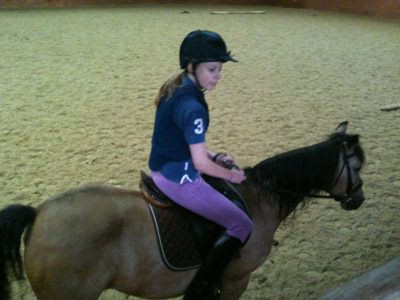 Victoria Franklin
Here is Victoria Franklin, born in 1997, now aged 15. Her mother says "Many thanks for the grant for some riding lessons for Victoria. She is really enjoying riding again and doing really well."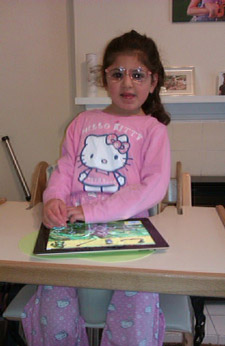 Charlina Haydney
We are currently funding a huge number of iPads. Here is another child, Charlina Haydney, born in 2006, now aged 5. Her mum says, "Thank you so much for the ipad, Charlina really likes it, there is not a day gone by that she hasn't been on it after school since we got it, and here is a photo to prove it".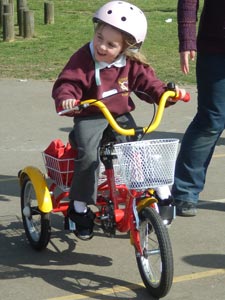 Kaela Young
Here is Kaela Young enjoying her new Musketeer trike. It gives her the opportunity for enjoyable days out, doing something that her friends do, and also offers her some excellent physiotherapy.

To read more, please visit Kaela's website.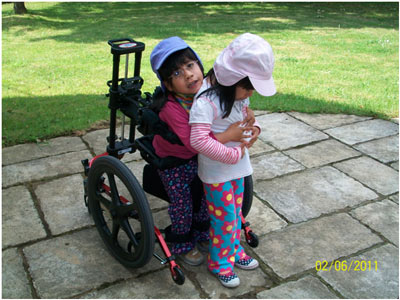 Elsa Maria Cockburn
Elsa Maria Cockburn, born in 2007, loves using her walking frame and uses it every day.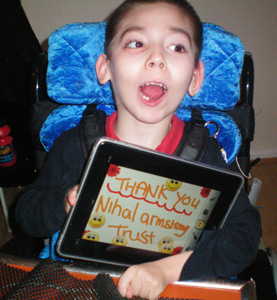 Bradley Bala
Bradley Bala born in 2006. His mother said that the iPad 'will make one lil boy happy and bring his communication on.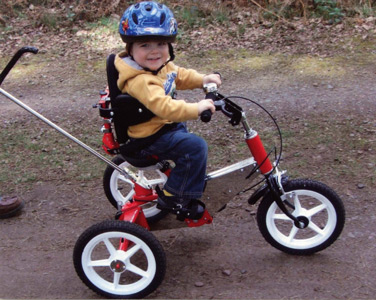 Blake Barley
Blake Barley, born in 2009 and already a competent versifier, had this to say about his new trike:
There was a time not long ago,
I couldn't ride a trike,
Then after searching long and hard
we found a special bike.
It stretches muscles, and keeps me fit,
and lets me have such fun,
But most of all, with Beth and Bryce
new playtimes have begun.
We cycle on the school run,
and have bike rides on weekends,
And now I have a bicycle
like all my other friends.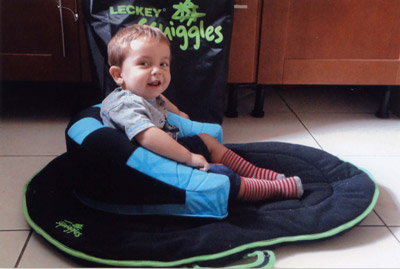 Harri Popat
Harri Popat, born in 2009, shows off his Early Activity System by Leckey. His parents say, 'We have found this extremely useful'.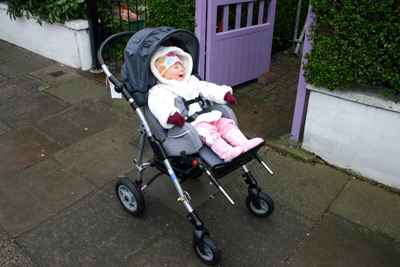 Sierra Rose Hill
Sierra, 'this little petal' as her mother affectionately calls her, was born in 2007. Here she is sitting in her specially supported buggy, the New Bug, which also doubles up as a feeding chair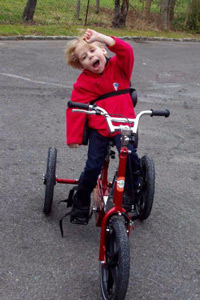 Theodore Barnard Edwards
Theodore, who was born in 2000, on his trike which enables him 'to play with his siblings and friends as an equal and join in family walks and outings' says his mother.